Unlock the power of OKRs
Launch your program successfully
With our comprehensive playbook!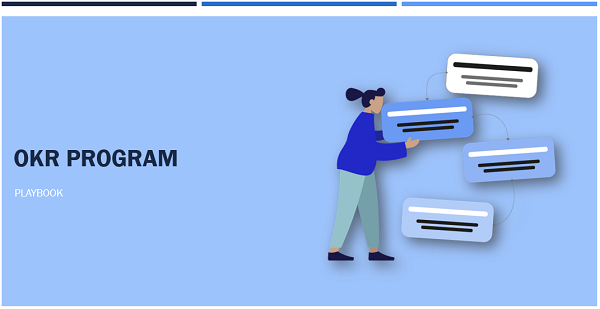 Start your OKR journey
Our OKR playbook provides guidance and support for establishing and implementing an OKR program within your organization. It includes steps for defining, organizing, and communicating your OKR program, as well as best practices and considerations for successful deployment.
This playbook can be used as a reference guide for executives during the planning process, as a tool for communicating the OKR program to teams, and as a resource for the entire organization.
This support is in powerpoint format so that you can easily customize it.
v2.1 – 01/26/2023

We have incorporated your valuable feedback to create an improved version. We appreciate your continued feedback, as it helps us to continually improve and enhance our OKR playbook.

V2.0 – 11/15/2022

This is already the second version of this support.

V1.0 – 04/27/2022

Initial version of this OKR playbook
A manual for your OKR coaching
Our OKR playbook is a comprehensive resource that has been developed through years of experience in OKR coaching. It is not intended to be a standalone training material, but rather a guide to the fundamental principles of the OKR method and how to effectively implement it within your organization.
The manual covers key considerations for establishing a successful OKR program, including governance, training, and workshop facilitation. In addition to providing guidance on these topics, our OKR coaches also offer personalized support and feedback to help you define and improve the quality of your OKRs.
Need help to use this playbook ?
Discover all the key concepts used in this playbook in our OKR trainings.
Find all our OKR resources
Want to learn more about OKRs Software ?
We have written an article for you to better understand the ecosystem of OKRs tools and make the best choice for your business.
Don't know how to start with your OKR journey ?
You want to start your OKR journey but you don't know how ?
Here's a handy step-by-step guide to help you getting started with Rising Goal.