How to choose the Best OKR Tool for your business
And why choose Rising Goal!
The main tool families
First of all, we can organize the tools in 3 main families:
Module of the HR Suite
Add-on of existing tools
OKR Pure player
HR suite
In HR tools, OKRs are used for the management of individual performance. During the OKRs cycle, individual OKRs are a support for discussion with their manager. At the end of an HR cycle, they are used for reviews and assessment of individual performance. There are possible impacts on rewards and bonus. Typically, those tools emphasize individual commitment.
HR tool with a goal management module
In this case the sponsor of the OKR program is the HR. This is clearly not the right sponsor!
OKR tool with HR modules
It can also be an OKR tool that seeks a source of growth in the HR process. We find for example a tool like Ally.io, recently bought by Microsoft.
Either way, it's encouraging their use for managerial or HR purposes, which is a recognized OKR anti-pattern. Indeed, OKRs help align employees around business priorities and strategic objectives. Using them for individual performance is more of a division than of cohesion …
The hidden agenda of these tools to go into performance management is their business model! Their plans are based on the number of users. So, it is in their interest to siphon off all users of an organization. Nothing like individual OKRs monitored by HR for that!
The Rising Goal approach
This is why at Rising Goal we set ourselves apart with plan based on members and guests. The idea? think more as a team than as an individual. A member can have up to 5 guests, which is a small team. Because not everyone is responsible for managing OKRs in a team, but the whole team benefits from having access to this information.
Take a good look at the tools plans before committing, they may favor the individual rather than the team.
Add-on of existing tools
These are add-ons, plugins or OKRs modules of tools whose core business is management: tasks, projects, products …
The OKR part was added later, because it is not the core business of the tool. They serve their function well, namely to give context and meaning to day-to-day work (via the project or the product). This is perfect if you have a small single product organization.
On the other hand, we do not find in these modules one of the basic functions of an OKR tool: the management of notifications for example.
But the real limit of this family of tools is scalability. OKRs are intended to be deployed throughout the organization. The problem of these specialized tools is that they are not used by everyone in the company! The HR or compliance department will be reluctant to use a tool like Jira or Asana. And yet OKRs are a tool for everyone, so should the solution you choose.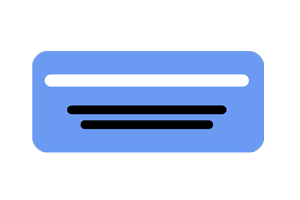 These add-ons can be appealing because they implement a basic OKR model: it is not always possible to align team goals with business goals; the notion of cycle is rarely present, let alone being able to decorrelate strategic from tactical cycles. Thanks to this simple model, they are easy to handle.
Simplistic tools will add little value to you. And may be then be seen as an "administrative" overlay.
Find out why choose Rising Goal
We would be happy to discuss your needs and give you a demo of Rising Goal.
Pure player
That's why we prefer the OKR pure player family. One of their advantages is that they help you to start your OKR journey. But be careful, this should not be a constraint when you start to master the method.
As a pure player, these tools must offer different means of integration into your IS. Whether through APIs or native integrations, such as the Jira integration in Rising Goal.
These tools can be grouped into two categories by business segment.
Start-ups and VSE
The OKR method is on the rise among investors. This is probably due to the fact that the legendary venture capitalist John Doerr has revealed in his famous book how this method has helped tech giants from Intel to Google … Also, many tools are intended for start-ups, like Tability.
They are generally very simple tools, very ergonomic, very easy to access. Perfect for small teams or small organizations with no hierarchy. Many of these tools are free.
Once again, their too simple model limits their ability to be deployed in an SME or more.
If the principle of OKRs is simple, the model is more complex. For example, you want to have:
Strategic corporate objectives
Annual business unit objectives
Tactical objectives of quarterly teams aligned or not
But some tools don't offer the capacity to align one objective with another. Yet alignment is the main reason for adopting OKRs, according to surveys from There Be Giants.
Remove the notion of initiative and you stop monitoring the execution of the strategy. Whereas, it is one of the main challenges for any business.
Having a purely OKR tool unrelated to project management loses its interest.
SMEs and large groups
Tools for SMEs and large groups, and they are not very numerous, implement a model that adapts to all kind of organizations. It can follow you on your OKR journey: from the first pilot with a few teams to deployment throughout the organization. As well as in your future growth.
Some offer customization of the OKR process to best suit your organization, starting with the cycles. Sounds harmless, but many tools only offer quarterly, calendar cycles. You cannot use other cadences.
The counterpart is a more difficult start. We cannot have everything! These tools compensate for this with onboarding, support and training.
So, you have to choose between ease of handling and scalability in the pure players family. And a good onboarding process can make the difference.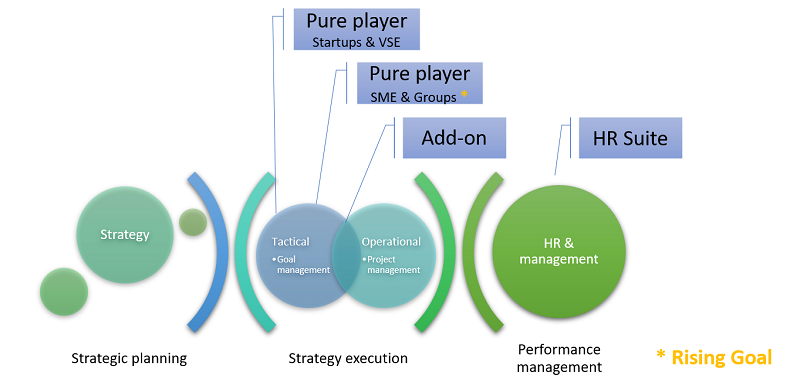 Why an OKR Software?
How about a simple spreadsheet?
In reality, all these tools are not really in competition, or in a marginal way. Because there is a fourth family of OKR tools. The real competitor is Excel (and all the generic tools such as google sheet, or notion, confluence…). It's free, easy to use for everyone. A real little mermaid!
In many cases, this is enough for a team. Where a few postits on the wall should also be enough. And besides, many startups switch to a google sheet after testing a saas tool.
But experience shows that as soon as you want to deploy throughout the organization, it becomes a nightmare, maintained by the OKR master, that no one consults!
Because there are several features that it does not provide (easily) and that the OKRs tools must offer:
Notifications
Because our OKR coaching experience shows us that monitoring OKR is not that easy! A visual reminder in the app and by email on the follow-up actions to be taken is a real help in bringing our objectives to life. The challenge is to keep the OKRs alive through regular monitoring. The benefit is to discuss it regularly, to review our decisions.
The There be giants survey puts this point in the 3rd priority for those who have started their OKR journey (after strategy and alignment).
Integrations
The tools generally offer native integrations or APIs to share information:
Let us return to the subject of initiatives. If from my OKR I do not have an easy access to Jira tickets for actions related to this OKR, how can I simply follow the execution of the strategy ?
Excel does not address the issue of deploying and monitoring OKRs in the organization.
Conclusion
So, why choose Rising Goal?
As we have seen, it is preferable to invest in a scalable pure player tool to choose the best OKR Software for your business.  Especially if you ultimately want to deploy OKRs throughout your organization. It is the target and the DNA of this method.
Rising Goal is in this line of OKR tools. But its intention goes beyond strategy execution and goal management. My experience as an OKR coach has shown me that if management is a subject, the tricky part is designing good objectives!
The fitbots annual survey naturally raises this point as the main challenge faced by + 70% of those who implement the method.

It is therefore one of the intentions of Rising Goal to help design OKRs, not just their management. This is what sets us apart from the rest. Here are the major features that are related to this intention:
The whiteboard
Since design is collaborative, so must the tool. And not just through asynchronous features like comments. That's why Rising Goal implemented an online collaborative design tool from the beginning. This is no longer an option with hybrid work becoming the norm.

The strategy
Strategy is an important input for quality OKRs. Clarifying the vision and the strategy is also the priority 1 identified in the annual survey of There be giants. However, the strategy tools do not manage OKRs. And OKRs tools don't handle strategic planning! It's a lack. This is why we are implementing this module based on the template described in a previous article .
The assumptions
Remember that the strategy is only an assumption developed by the board. It is the same for goals and objectives at the team level.  Properly identifying, communicating and tracking these hypotheses allows for a better design and understanding of the challenges of the objectives!
Find out how Rising Goal meets your needs
We would be happy to discuss your needs and give you a demo of Rising Goal.